WARNING! This article contains information from the light novel.
Read at your own risk.
Ard Meteor (アードメテオ, Ādo Meteo?) is the main male protagonist of The Greatest Demon Lord Is Reborn as a Typical Nobody. He is the Demon Lord Varvatos who defeated the Evil Gods and united the world. He choose to reincarnate three thousands years into future due to the loneliness brought about by his overwhelming power.
Appearance
Ard has black hair and red eyes. He is usually wearing the school uniform. While transforming, his hair becomes white and his outfit turns into an armor which can resist almost everything.
Personality
Ard comes off as quite a calm and reserved boy who usually is more open and friendly to those who are more close to him. He wishes he could be more open-minded like Ireena and has some problems expressing himself.He is a kind of person who doesn't want any name or fame. He always cares for his friends. He also oblivious that women around him are in love with him.
Chronology
Over 3000 years ago, Ard was known as Demon Lord Vartatos who rule over the demon realm. He was the strongest and wisest demon lord of all time. Before becoming a Demon Lord, he used to have colleagues but after getting the position of it, they began to see him as their supreme leader and start acting formally. Due to all loneliness ,he reincarnated into an average villager in order to make friends and live a happy life.
After reincarnating, he tried to make friends but ended up in failure due to his common sense was of his previous self not of a child.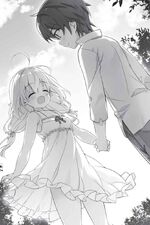 One day, he heard a scream coming from the forest. There was a girl who had been trapped by a wolf. He saved her. The girl name was Ireena, daughter of the Heroic Baron, Weiss
She became his first friend.
Some years later, while celebrating a feast with his and Ireena's parents. Ireena's father, Wiess, suggested them to go to Laville National Academy Of Magic which both of them happily agreed.
In Laville, while strolling around he saved a girl named Jessica from some orcs, who happens to be his homeroom teacher. During a mocked battle with an elf, Elvardo, Ard reunites with his right-hand woman and big sister like, Olivia vel Vine. After winning the match, Olivia suspects that he could be Demon Lord as he used double casting magic which was considered as a lost spell in the current era.
When he was on a date with Ginny along with Ireena, they all confronts the members of crime syndicate group known as Lar El Ghoul who were assingned to kill the current queen. But in meantime, Ard sabotages all members that leads him to kill a demon which outrage in streets. Later, he do got the title of Pentagon by the queen of Laville,Rosa.
During the battle event, horde of demons raid the collosseum. They were supposed to kidnap Ireena. In that hazard, Jessica's true form got revealed as the Elzard, the ancient dragon who nearly destroyed the world after demon lord disappears, she aducted Ireena and took her to Laville Of Sorcery Weiss told Ard about their blood lineage who happens to carry the blood of evil gods and they are rightful precursors to Royal family.
In the battle between Ard and Elzard, he had to revealed his true identity in front of Ireena. At last, he defeated Elzard.
Abilities
Superhuman Strength
Sonic Speed
High Attack Potency
Intelligence
Magic
Notable Attacks/Techniques:
Search: A probing spell which pinpoints his target and teleports him.
Dimension Walk: A teleportation spell which transports his body to his desired location.
Wall: An elementary spell of which calls forth a magic circle to allow a translucent barrier to envelop his immediate surroundings.
Giga Flare: A mid level spell which has a attack range that is small and concentrated, making it one of the strongest single-target combat spells.
Heal: An elementary spell which heals his target.
Mega Flare: A mid-level fire spell capable of engulfing hundreds of people.
Script Magic: By using broken fragments of ancient runes, Ard first projected a simple magic circle in the air and cast a spell very quickly causing the area to explode.
Skywalker: A spell which allows Ard to fly.
Reflect Wall A spell in which Ard uses the modified version of the mid-level Mega Wall to return the force of his opponents attack back at them.
Lightning Field: A mid-level attack spell which is a derivation of Lightning Blast. It summons a rain of lightning over a wide area to conquer and annihilate.
Flash of Babel: A spell which unleashes a flood of golden light that quickly seeks out and washes over its target in an instant. The destructive beam of light shots upward into the sky, puncturing a ginormous hole among the clouds, where it finally reaches its zenith and died out.
Hydra Blast: A mid-level lightning magic which creates bolts of black lightning snakes.
Ultima Wall: A special-class defense which envelops him in a semi-translucent protective orb.
Ultimatum Zero: A spell which manifest 7 titanic magic circles and charges magical energy which is then fired at his target. It has enough energy to lap around the planet a few times.
Weapons and Equipment
One of the three great Holy Swords in the world. The giant golden blade emanated a ghastly aura. Demise-Argis expelled a destructive energy that was like a type of poison, seeping out toxic magic with each torrent to wipe out enemies in every direction. That's how it earned its nickname: The Noble Treasure of Annihilation.
Relationships
He met her in the childhood when he saved her from a monster. Ard thinks her as his most precious friend in the world. In return, Ireena feels the same way. She has very strong feelings for him but he overlooks it with saying that "he cannot see her as a love interest, she is like her daughter". They share a strong bond since their childhood days. In the end of volume 1 when she discovers that he is the demon lord, she treats him same. Since she doesn't want anyone to take Ard away, she acts reluctant when other girls especially Ginny got close to Ard, she got jealous and angry at this and claiming that Ard only belongs to her.
In the Light Novel Volume 4, Ellis who comes from the future, she indirectly said to Ard that he is her father and Ireena is her mother.
Ard gave her confidence to fight with her own power. She begans to worships him and came to love him. When she suggested that she doesn't mind if Ard got a harem, Ireena tossed this matter. Ard taught her to control magic and to do silent-casting. She is too much bold for showing her feeling in front of him to the point she saying that even he got a harem she wants to his number one, doing her best to get close to him and even seduce him by her charm magic(which get always failed because of Ireena).
Ard thinks of hers, a walking trouble. In his previous life, she always ruins his plans and annoys him with her stupid common sense. She wants to became stronger than him as Lydia thinks of him very highly. After she gets to know Ard has put Lydia sentenced to death, she starts practicing in the Phantom Forest for 3000 years all because she wanted to kill him as she sees Lydia of her big sister. She get to know that he has reincarnated and now staying at Laville National Academy Of Magic by a masked man. Without even thinking, she rushes over to the Academy. Though she can be fooled easily, Ard hides that he is the demon lord's reincarnation when she asked him to. Throughout the series, she came to the conclusion that she shouldn't thought that Ard is the Demon Lord and even came to fall in love with him by his kind nature.
In the end of Volume 2, when she was provoked by the masked man, she loses her sense of reasoning and nearly destroying everything comes in her way but Ard defeated her and led her to come back to her senses. When Ard asked her that if he was the reincarnation of the Demon Lord, would she killed him or not. But instead she says that if she does that, Lydia will never forgive her.
Gallery
Trivia
Ireena had tell his name in a song "Ard! A is for Annihilating Evil! ♪ R is for Runs 'Em Straight Through! ♪ D is for Decimate the Enemy! ♪".
He got the title of Pentagon, the fifth rank of the magic arts.
References